Shock & Awe for Loitering: Maximum deterrence as first response with voice down message.
In the Shock & Awe Scenario, the expectation is that intruders are deterred by the siren and strobe and do not linger; these simply continue until the intrusion is over. In some situations however, further escalation may be desired, including the playing of a voice message and are sound effects.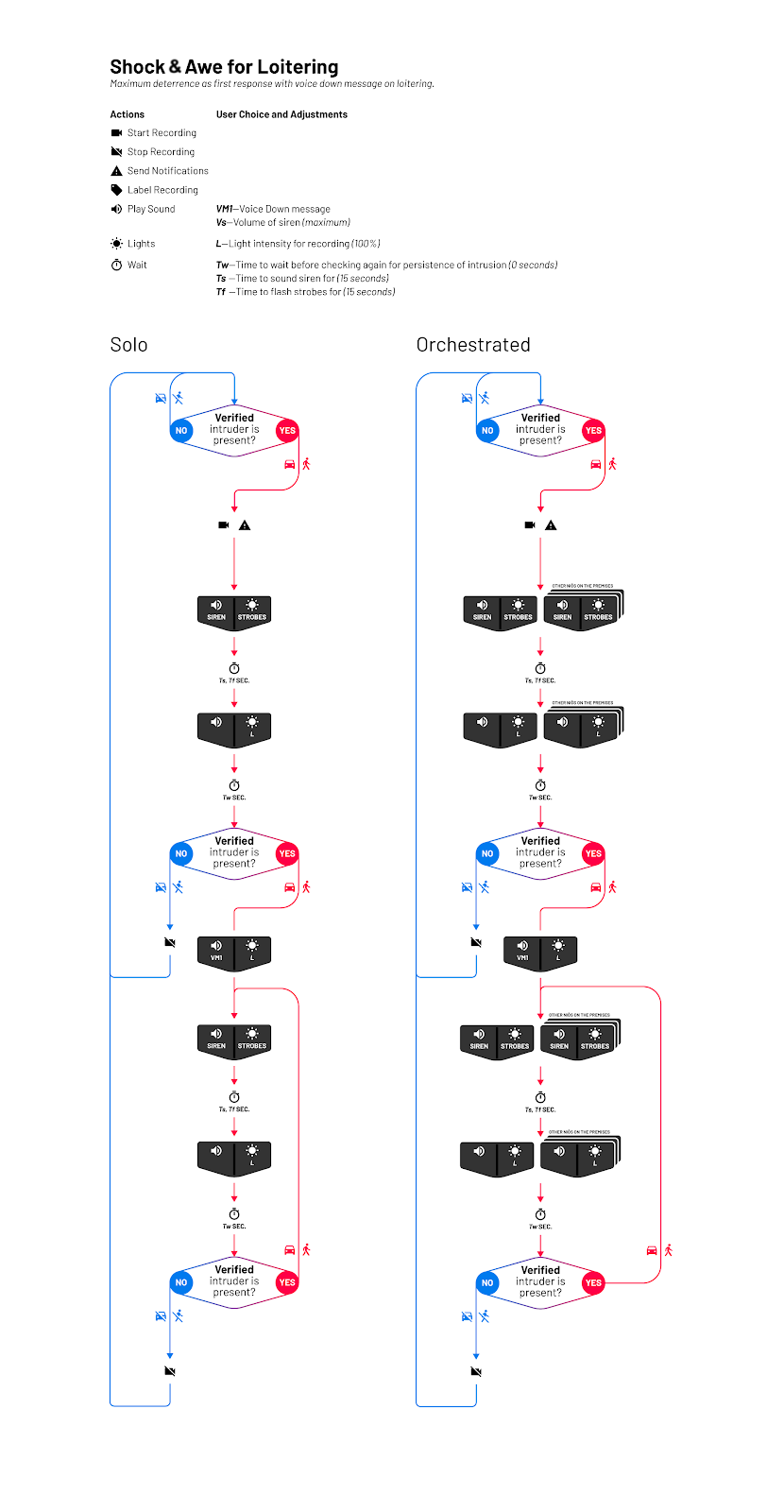 Actions
When an intrusion by a person or vehicle is confirmed,
The light intensity should be set to L (default: 100%).
Sound the siren for Ts seconds (default: 15)
Simultaneously, turn the flashing strobe lights on for Tf seconds (default: 15)
Start the recording, send out notifications; continue the recording for 60 seconds after intrusion is confirmed to end.
Check after Tw seconds from when the strobe turns off (default: 5) if the intrusion persists
Play a voice down message if the intrusion is confirmed to persist.
Continue with strobes and siren until intrusion is over.
Variants
Solo:
Only the Niō that detects an intruder reacts.
Orchestrated:
Other Niōs in the group turn on strobe and siren when the intrusion is first confirmed.
Adjustments
Value of light intensity to use for recording L. (default: 100%).
Time to have strobe lights on for at first intrusion Tf (default: 15 seconds).
Time to sound siren for Ts for at first intrusion (default: 15 seconds).
Time to wait Tw after strobes and siren complete, before checking if intrusion is continuing. (Default: 0, has to be < 60).
Choice of voice down (specific file).